Casino Hold'em is a popular casino game similar to that of Texas Hold'em, that was created back in the year 2000 by Stephen Au-Yeung. This exciting take on the hugely popular game of poker lets you play against the house but in order to play to win, you need to understand the rules and the basics, both of which we cover in this Live Casino Hold'em guide.
But first, let's take a look at the history of the game.  The intrepid Stephen Au-Yeung devised the game back in the 1990s purely by accident.  He didn't intend to create a worldwide casino game, no. Instead, he created what he thought was a tool to help train his partner in the art of Texas Hold'em poker.
Then, in the year 2000, this 'tool' was created as an in-house game appearing in land-based casinos in Egypt first then Russia before mobbing onto South Africa. Fast forward to 2001, the game was unveiled at the World Gaming Congress Expedition in Las Vegas and a year later it found its way onto UK shores when it was shown at the International Casino Exhibition at Earl Court in London.
Best Live Casino Hold'em Sites
Live Casino Hold'em Bets, Pays and Possible Outcomes
Returns to the player are far simpler to understand compared with say Live Baccarat. In Live Casino Hold'em Poker, the player with the strongest hand will win receive a pay of 1:1. A royal flush will pay 100:1, straight flush 20:1, four of a kind 10:1, a full house 3:1, flush 2:1 with straight, three of a kind, two pairs and one pair or less paying 1:1.
Royal Flush: This hand consists of 10, J, Q, K and A or the same suit.
Straight Flush: A hand consisting of 6, 7, 8, 9 and 10 of the same suits.
Four of a Kind: A hand consisting of all four of one card; example, ace of spades, ace of diamonds, ace of clubs and ace of hearts.
Full House: This hand features three cards of the same value and another pair.
Flush: Five cards of the same suit.
Straight: A hand made up of five consecutive cards, example; 5 of hearts, 6 of clubs, 7 of clubs, 8 of diamonds and 9 of hearts.
Three of a Kind: A hand comprising of three cards of the same rank, with two cards unmatching cards, example; king of hearts, king of diamonds and king of spades with two non-matching cards
Two Pairs: A hand containing two pair of cards of the same rank, example; ace of clubs and ace of spades with king of hearts and king of diamonds, as well as another card.
One Pair: A hand of two identical cards of the same rank, and three cards not of the same rank.
The Bonus Bet
The bonus bet is an optional bet that is offered to players alongside their usual Casino Hold'em bet, but it's important to note that the bonus bet cannot be placed on its own, it must be placed alongside ante bets. Once bets are placed on the ante bet spot, an indicator will appear on screen to highlight the bonus bet spot. To bring this into play, drag and drop a chip as you would when placing an ante bet.
Bonus bets will be based on the first hand of five cards and if you have a pair of aces or better, you will win the bonus bet and will be paid according to the following bonus bet pay table:
Royal Flush: 100:1
Straight Flush: 50:1
Four of a Kind: 40:1
Full House: 30:1
Flush: 20:1
Straight: 7:1
Three of a Kind: 7:1
Two Pairs: 7:1
One Pair: 7:1
Possible results and pays in a game of Live Casino Hold'em are as follows:
Dealer doesn't qualify and you win – ante bet wins/push;
Dealer qualifies and you win – ante bet wins/1:1;
Dealer qualifies and you lose – the game ends and you lose;
Dealer qualifies and you tie – push;
Player folds – the game ends and you lose.
How to Play Live Casino Hold'em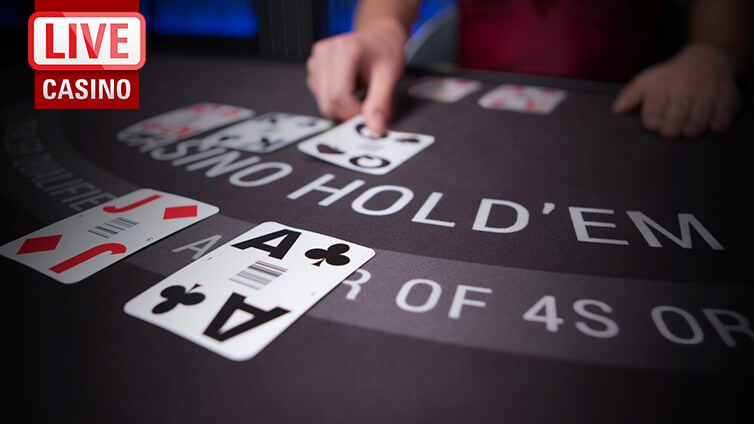 This exciting casino game sees players making bets against the house rather than against other players and the aim of the game is to beat the dealer's hand by achieving the best 5-card hand as possible from the two cards dealt to the player and the five community cards. Unlike other casino games where there are table limits, Live Casino Hold'em welcomes an unlimited number of players to the one table, each playing simultaneously, however, each player is limited to the one seat.
Played with one standard deck of 52-cards, Live Casino Hold'em delivers an immersive casino experience which aims to recreate the excitement from a bricks-and-mortar casino, only without the hassle of having to get dressed up or without having to leave your own home. Customisable camera angles, sounds, and history of the gaming outcomes are on-hand 24/7, to help make your gaming experience the best it could possibly be. When you're ready to play, you have a set time to place your ante bet (and bonus bet if you wish to maximise your chances of winning) and you do this by dragging and dropping your desired value chips to the relevant spots on the table.
Next, the live dealer will produce four cards: two face-up for the player and two faces down to the dealer. Three community cards are placed into the centre of the table between the dealer and player cards and are placed face-up. The next step is to decide on whether to play (2x) or fold (ends the game and you lose). Your screen will produce a green button to initiate the option to play on and a red button to fold. To proceed, press to play on or fold. By playing on, your original ante bet is doubled, but your bonus bet remains unaffected. Once you have made your decision, the dealer produces two more cards to the community set of cards – this makes a total of five cards and reveals their cards in the process.
What's the Difference Between Casino Hold'em and Texas Hold'em Poker?
Despite both Casino Hold'em and Texas Hold'em offering striking similarities, there are noticeable differences between the two – the main difference being the way the game is played. Players can only begin to truly understand the differences by understanding the rules of each game and both of which are detailed below:
Casino Hold'em Poker:
This poker game is played with a standard 52-card deck. An 'ante' bet (and an optional side bet) is placed by each player, to begin with. Both the player and dealer are dealt two cards each, all of which are face-down on the table. An additional three cards are dealt to the table, to begin with and as the game gets underway, the three cards will increase to five.
Once cards have been checked by the player, they then have to decide whether to fold – this ends the game and results in the loss of the ante bet or to make a 'call bet', which doubles the original ante bet. If one or more player makes a Call bet, the dealer produces two more cards to the table.
Each player left in the game will then compare their cards to the cards of the dealer and to qualify, a hand of at least a pair or 4's is needed by the dealer. Should the dealer not qualify, the Ante bet will pay according to the AnteWin table and the call bet becomes a push (stand-off). If the dealer qualifies, the pays will change accordingly; if the player hand is better, the ante bet will pay according to the AnteWin table and the Call bet will pay 1:1. And if the dealer's hand is the equal to that of the player's hand, all bets are push (neither win nor lose) and if the dealer's hand is better, the player loses all bets.
Texas Hold'em Poker:
Every participating player is dealt with two cards face-down – which is known as hole cards. Three community cards are placed onto the table and are revealed (known as a flop) once the betting has taken place. Betting will continue around the table with each player calling a bet amount or deciding whether to raise or fold.
The community area is dealt a fourth card (the turn card) and is on full show. Another round of betting ensues with bets being raised and/or players folding. A fifth card face-up is dealt with the community area (known as a river card) prior to the third and final round of betting taking place. The winner will be the person who has the best hand (of five cards) from the hole and the community area.
Live Casino Hold'em FAQ
Q: Return to Player (RTP) Percentages of Live Casino Hold'em?
A: The return to player percentage in Live Casino Hold'em is 97.84% for the ante bet and 93.74% for the bonus bets.
Q: Can I Play Live Casino Hold'em on Mobile?
A: Live Casino Hold'em is readily available to play on mobile and is as easy to play on mobile as it is on desktop. The layout, pays, rules and features will be identical to that of the desktop version, only a lot smaller than you'd expect. To launch, press to enter the Live Casino Hold'em room and you'll get to witness the action unfold live as it's happening from a casino studio setting either in Europe, Asia or the US.
Q: Do I Need to Download Any Apps to Play Live Casino Hold'em on Mobile?
A: There are no specific apps for Casino Hold'em, but many players choose to download their favourite casino app for a more immersive gaming experience. Playing directly via your mobile browser could lead to a cluttered layout with multiple tabs restricting your view and when it comes to more modern smartphone devices, the floating menu often covers the lower screen where the bonus, play and ante betting options sit. Casino mobile apps eliminate browser tabs and floating menu bars completely, and another advantage is you can launch games far quicker with a glance at the camera or a press of a finger, instead of typing in your username and password each time you want to play.
Q: What is the House Edge in Live Casino Hold'em?
A: The house edge will depend on where you play, but as a rule of thumb, the house edge typically sits at just below 2% and can reach as much as 2.5%. When using the ante bet, the house edge is 2.16% on average. 
Q: What Does Push Mean in Live Casino Hold'em?
A: Push is a terminology used to describe a specific outcome in Live Casino Hold'em; if a tie between the dealer and the player occurs, the hand is known as a push resulting in your original ante bet returned and nothing else.
Q: What Are the Terms Used in Live Casino Hold'em?
The Dealer: The host who deals the cards and the rules state they must have at least a pair of fours to qualify for the game.
The Player: You, the person placing bets.
The Blinds: The placing of a call bet before the cards are dealt are known as the blinds, and this bet will always be twice that of the ante bet.
Pre-Flop: The period before the community cards are dealt is known as a pre-flop and is a brief period where players decide on whether to raise or fold.
Hole: Term used to describe the player's two cards.
Flop: The first three cards placed into the community area of the table is known as the flop.
Turn: Reference to the fourth card that is turned and in Live Casino Hold'em, another round of betting commences after the turn takes place.
River: The fifth and final card produced is known as the river.
Showdown: The last part of the game where all cards are revealed. The showdown will see who has the best hand.
All In: A player who is either bluffing or confident will choose to go 'all-in' and bet all their chips. This term is not used in Live Casino Hold'em.
Fourth Street: Another term used to describe the turn.
Fifth Street: Another term used to describe the river.
Button: A term used in Texas Hold'em to describe players taking turns to be the dealer – a button is used to highlight who the current dealer is.
Check: This term describes someone who is unsure whether to raise or not, so a check is used to pass the player's turn to the next player and the next player will then set the bets.
Q: What Are the Best Strategies to Follow for Live Casino Hold'em?
A: The outcome of each hand will be determined by the hand in which you are dealt and while there are no specific strategies to help you beat the house each time you play, there are three top rules that players should always follow when playing Live Casino Hold'em:
High Hole Card: Once flop cads are dealt, if you have a hand with an ace or a king high card, you should call.
Call if Close: Hit should always be the outcome when you are one card away from a straight, flush or royal flush.
Don't bet on a losing hand if the dealer is showing a strong hand.
Q: How Many Seats Are There in Live Casino Hold'em?
A: One seat per player, but online Live Casino Hold'em welcomes an unlimited number of players.
Q: Can I Interact with the Host and Other Players When Playing Live Casino Hold'em?
A: A chat feature will allow you to interact with other players and the host while playing. To access this feature on desktop, hover your mouse to the top left of the screen and type your message before pressing enter on your keyboard to send. On mobile, you may need to rotate your device to landscape mode, but by doing so, you may find the screen partially covered.
Q: What Are the Types of Live Casino Hold'em?
A: Evolution offer an additional Live Casino Hold'em vertical known as 2 Hand Casino Hold'em and this casino game is identical to that of Live Casino Hold'em, only it offers the ability to play up to two hands per round.
Q: Do Online Casinos Offer Welcome Bonuses and Other Promotions Based on Live Casino Hold'em?
A: Bonuses and promotions are frequently available to Live Casino Hold'em players, with reload bonuses among the most popular. New players signing up to a casino typically receive a 100% (or higher) bonus which boosts deposits and gives more playing time. It's always a good idea to check the latest casino promotions before making a deposit because often a promo code is needed to trigger these bonuses and unless you use the stated code in the cashier at the point of making a deposit, you will miss out.
Q: Is Live Casino Hold'em Suited to Novices?
A: Live Casino Hold'em is suited to both new and experienced players as it's a simple game to understand. If unsure on how to play, sit in and watch as a spectator before risking any capital.