Live Blackjack is a table game that UK players love! From Evolution to NetEnt, each live blackjack table guarantees an immersive gaming experience which aims to recreate that bricks-and-mortar casino feeling in your own home.
Available on desktop and mobile devices, live blackjack offers gameplay for both experienced and new players alike and with bets ranging from low stakes players who like to bet conservatively to high rollers looking for that life-changing win. Most tables are based on seven-seat blackjack with many a betting option including bet behind, and despite the number of seats stated, an unlimited number of players can join in.
Unlike a real casino, live blackjack won't encourage you to make haste bets. The pressure to place bets in a casino is on with onlookers encouraging you to up the ante, but you do have to place your bets within a set time, or you'll have to wait until the next round. With an open all hour's approach to gaming, live blackjack is ready and waiting when you want to play.
Best Live Dealer Blackjack Casino Sites
Live Blackjack Bets and Pays
The value of the available chips will be displayed on your screen. To place a bet, drag and drop your desired chips onto the betting table. The repeat button allows for easier bets being placed as it effectively repeats the bet from the previous round. Double buttons allow for the doubling of your initial bet with one simple click. Undo effectively removes your last bet – this must be pressed prior to the game commencing. Once bets have been accepted, the game will begin.
Perfect Pair refers to two identical cards with the same suit (aces of spades for example) and this pays 25:1
Coloured Pair is different suits of the same colour (2 of diamonds and 2 of hearts for example) and this pays 12:1
Mixed Pair is different suits of a different colour (10 of hearts and 10 of clubs for example) and this pays 6:1
For 21+3 bets:
Suited Trips is an identical triplet (3 Queen of Hearts for example) and this pays 100:1
Straight Flush is cards in numerical sequence (10, Jack and Queen of diamonds for example) and this pays 40:1
Three-of-a-Kind is a hand of the same value but different suits (3 non-matching Kings for example) and this pays 30:1
Straight is a hand of the same value but different suits (2 of Spades and 3 of Clubs and 4 of Hearts for example) and this pays 30:1
Flush a hand of non-sequential cards with the same suit (3, 7 and 10 of clubs for example) and this pays 5:1
How to Play Live Blackjack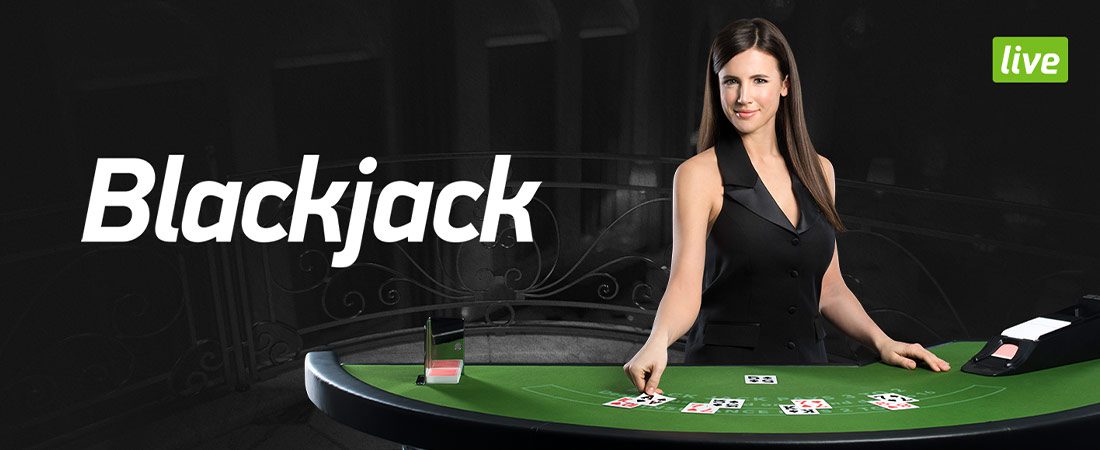 The rules for live blackjack are the same for standard blackjack: get on or as close to the number 21 as possible to beat the dealer, a real dealer sat in a recording studio.
First, you must place a bet on the table – in the betting circle, the minimum and maximum bets accepted will be displayed on the screen. Once all bets are placed and the countdown timer reaches zero, the dealer will deal in a clockwise direction and place a card (face-up) to each player then one face-down for themselves. The dealer will deal one more card to each player (face-up) and one last card also face-up on top of the card that is face-down, and the game will commence.
You must then decide whether to stand, hit or double down. Add the values of your two cards together to determine your score – remember, you need to be on or as close to 21 points as possible to stand any chance of winning. Cards 2 to 9 carry their face value, 10 and picture cards (J, Q and K) are worth 10 points and Ace cards can either be 1 point or 11, depending on which is best for your hand. The Stand will see you stick with our cards, the Hit will see the dealer produce an additional card to try and better your current point score and double down effectively sees an additional card dealt while doubling your initial bet.
Some live blackjack tables offer a split option where when a pair of cards of equal value are dealt, you have the option to place a second bet and then the two cards are split to become two new hands. Surrender may also be offered, where you give up your hand for half your original stake back.
Live Blackjack Features
Speed Blackjack by Evolution is the fastest way to play live blackjack and with the same rules as regular blackjack, it's a popular choice for those looking to get an almost instant outcome. The player who makes the fastest decision to hit, double down or stick in this live casino vertical gets their next card dealt first.
Bet behind is a feature where bets can be placed behind one or more of the main 7 players at the table. A bet of this nature offers massive win potential and even players in one of those main seats can bet behind the seat of another.
Perfect pairs and 21+3 side bets add an extra layer of excitement as well as extra ways to win. Perfect pairs increase the payouts if the two first cards drawn are mixed, coloured or a perfect pair. The 21+3 side bet is based on a range of poker-style card combinations which are based on the player's first two cards and the dealers face-up card.
VIP blackjack tables offer a touch of luxury for high roller players which are a little like Evolution's Salon Prove where elegance meets a private gaming environment offered only to high wagering players.
What's the Verdict?
Live blackjack is suited to both new and experienced players looking for a more realistic gaming experience and whether you're going in all guns blazing with high roller bets or placing small bets to conserve your bankroll, there are many tables to suit your style of play.
The ease of play makes it one of the most popular games to play and with a real-life dealer, you get to experience a social element at the same time. While you may not have the power over who deals your cards, you do have the option of many tables; blackjack party tables feature many a host while there are tables where glamorous ladies and dashing gents wait to welcome you.
Live Blackjack FAQ
Q: Can I Play Live Blackjack on Mobile?
A: Nowadays, all live casino games can be played on mobile. All you need is an internet-enabled device, whether that be a smartphone or tablet – new or old, and you can join in with the action as it unfolds.
Q: Do I Need to Download Any Apps to Play Live Blackjack on Mobile?
A: No specific apps are required; however, your chosen casino may offer a free app for a more convenient way to access your favourite games. An app isn't specifically tailored to just live blackjack games, it's an app from an operator with every game you'd expect to find on the desktop website; from video slots to jackpot games, live casino gameshows to live blackjack, one log in will allow quicker access and a more immersive way to play. Playing live blackjack via the browser on your device could lead to the navigation menu getting in the way, but on the app, all you have is a full screen of casino options with no distractions from your web provider. 
Q: What Are the Different Types of Live Blackjack Games?
Classic Blackjack: The original way to play blackjack and most common way to play, with between 1 and 4 decks of cards. The aim of the game is to create a hand which is equal or as close to 21 as possible and have a better score (without going bust) than the dealer.
Live Blackjack: Exactly like classic blackjack, only the results are brought to you live from a recording studio somewhere in Europe/Americas.
Progressive Blackjack: Played using the same rules as standard blackjack only the prizes on offer are far more substantial. Similar to progressive jackpot slots, as the game is played, the pot ticks over until someone manages to win the lot based on their hand.
European Blackjack: A blackjack variant used with 7 decks and in this version, the dealer must land a soft 17. If you have a hand of 21, your odds returned will be 3:2.
Blackjack Double Attack: Similar to Spanish 21 only all number 10 cards are removed, and the aim is to reach a hand of up to 21 to beat the dealer.
Blackjack Switch: Two bets are placed by the player and this version allows the player to switch cards between hands.
Atlantic City Blackjack: Any two-card hand can be doubled down in this type of blackjack game and players can split when a pair or two cards of equal value sit in their hand.
Vegas Strip Blackjack: A popular one in Las Vegas bricks-and-mortar casinos (hence its name!) with 4 decks of cards used and pays of 3:2.
Pontoon Blackjack: Hands of 14 or less will result in the dealer automatically producing you a third card.  AFive-card pontoon is achievable with a hand of less than 21. When you 'twist' the dealer produces another card to your hand only face up. This process will continue until you have five cards and after the fifth card is produced, if your total is less than 21, you will achieve a 5-card pontoon!
Spanish 21 Blackjack: A newcomer on the blackjack scene with a different table layout and between 6 and 8 decks are used each round. However, similarities between Spanish 21 and standard blackjack end with needing a point score of 21, as the pays are completely different from our Spanish counterpart:
The number 5 card of any suit pays 3:2
The number 6 card of any suit pays 2:1
Cards 6, 7, 8 from mixed suits pays 3:2
The number 7 card of any suit pays 3:1
Cards 6, 7, 8 from the same suit pay 2:1
Cards 6, 7, 8 of spades pays 3:1
The number 7, 7, 7 from mixed suits pays 3:2
Hand of 7, 7, 7 from the same suit pays 2:1
A hand of 7, 7, 7 from just spades pays 3:1
Q: What Are the Live Blackjack Terminologies?
Hit: This is a term used to draw additional cards to your hand
Stand: Means you're happy as you are and require no more cards
Bust: When your total hand exceeds 21 and this means you lose the game
Hard Hand: This is a hand with no Ace or an ace valued at 1
Soft Hand: A hand with an ace valued at 11 points
Double Down: The player can double their initial bet after seeing the first 2 cards
Split: This is a term used to describe the splitting of the cards which results in 2 hands being created, but only when the player is dealt a pair of identical cards. Each hand is played as normal and this in return gives the player 2 chances to beat the dealer
Insurance: A side bet which is separate from your initial bet and is only offered when the dealer's up-facing card is an ace
Push: When both the dealer and the player's hands are of equal value of at least a point score of 17, the hand results in a draw.
Q: Can I Play at More than One Live Blackjack Seat?
A: Yes! Many online casinos offer this feature only, many of them are yet to offer a multi-view feature.
Q: Blackjack Side Bets – Are they Worth It?
A: There's no denying side bets offer an additional layer of excitement to what is already a thrilling game, but there are pros and cons with making use of them. The biggest advantage of a side bet is the excitement of being able to place more than one bet at a time, the downside is the additional cost.
Q: What Are the Types of Live Blackjack Side Bets?
Pairs: A pair of cards of the same kind pays 25:1. A mixed pair of same value cards only a different suit pays 5:1 and a coloured pair of cards being the same colour only a different suit, pays 12:1.
Insurance: A bet which effectively covers your hand if the dealer's face-up card is an ace. Half your initial wager is used for this bet and it pays 2:1 when the dealer has a blackjack hand of 21.
21+3: Straight hand of consecutive cards pays 10:1. A flush hand of cards in the same suit pays 5:1. A straight flush of consecutive cards of the same suit pays 40:1. Three-of-a-kind hand consisting of three cards of different suits pays 30:1. A suited triple is a hand of three of the same cards and this pays the maximum multiplier of 100:1.
Super Sevens: Payouts of 3:1, 50:1 and 100:1 is achieved when a single seven, two unsuited sevens or two suited sevens are part of your hand, respectively.
Royal Match: A hand of matching royals pays 5:2 or 25:1 for a suited king and queen.
Lucky Ladies: Two queen cards totalling 20 points will pay 20:1 if unsuited, 25:1 if both bear the same card suit and rank and 100:1 if they are two queens of hearts produced at the same time as a dealer blackjack.
Under/Over 13: A side bet where you predict whether the first two cards dealt will be over or under 13 with a pay of 1:1 if successful. 
Q: What's the Perfect Strategy to Beat the Dealer in Live Blackjack?
A: Many people are under the misconception that in order to win, you need to hit that perfect point score of 21. However, the best strategy is to beat the dealer without going bust, whether that be a point score of 18 or 21! Bear that in mind when deliberating your next move. 
Q: Is the House Edge Affected by the Number of Card Decks in Live Blackjack?
A: Yes. The fewer decks used, the lower the house edge because there is more chance of the player achieving a blackjack this way.
Q: What's the Minimum Bet on a Live Blackjack Table?
A: Minimum and maximum bets for live Blackjack will be determined by the operator, usually, the minimum bet is £1.
Q: Can I Interact with the Host and Other Players When Playing Live Blackjack?
A: Yes! A chat feature allows you to type to your fellow players and the host so there's no need to sit silently, you can ramp up that volume and get a good conversation going!
Q: What Are the Advantages of Playing Live Blackjack Online?
A: The main advantage is being able to play when you have some spare time! No need to get dressed up or head out to your local casino because live blackjack games are available 24/7!