Thanks to a partnership between Evolution – a leading live casino solutions developer and Hasbro, best known for their boardgames, Live Monopoly was born. Released in 2020, Monopoly Live is a unique live casino gameshow based on the iconic board game where "Do Not Pass Go, Go Straight to Jail", Mayfair and the Water Works provide endless entertainment.
Due to the huge success of Dream Catcher – a live casino gameshow from 2017, Evolution designed its Live Monopoly vertical around the same super-sized multiplier wheel, only there's far more to this wheel than meets the eye!
Broadcast live from the studios in Europe, Live Monopoly is not only a thrilling live casino game but an immersive one with a bonus round that literally takes you into the heart of the action. All the excitement and the suspense of the award-winning multiplier wheel has been ramped up to take players to a new level of gaming and in 2019, Live Monopoly was awarded EGR's Game of the Year 2019 and Gaming Intelligence's Game of the Year 2020, as voted for by operators in the sector.
All those iconic elements of the much-loved boardgame are featured including a chance and community chest and all gaming outcomes are guaranteed to be random and fair what with a random number generator being used to determine outcomes. Chance can award a random cash prize or multiplier while the biggest prizes remain hidden within the roll's bonuses – up to £500K is up for grabs with this one!
Best Live Monopoly Casinos UK
Live Monopoly Bets and Pays
Playable from 10p to £5K, Live Monopoly has a simple betting system whereby players drag and drop their preferred value chips onto the betting table. Options on the table include 1, 2, 5, 10 as well as 2 rolls and 4 rolls.
To maximise your chances of winning, you could place bets on all 6, but this will inevitably end up hitting you in the pocket as the wheel can only produce the one outcome per spin. Each number on the wheel represents a multiplier, so a £1 chip on number 10 would generate a 10x multiplier as well as your £1 stake back. Other options include doubling up your bets – if you're feeling brave.
The roll options are the key to unlocking the 3D, augmented reality board game bonus, but unless you have bets covering these when the wheel lands, you'll sit back and watch the events unfold for everyone else who qualifies.
How to Play Live Monopoly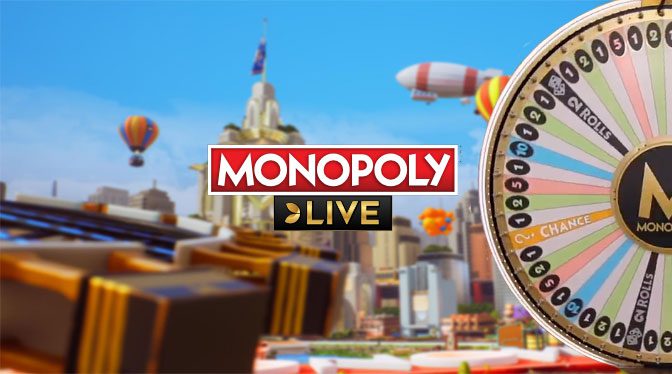 The first step is to place your bets. Mobile players will simply need to click and drag their chip(s) to their required destination on the betting table. Players on a desktop will be required to perform the same action, only by use of a mouse instead of a finger. You've 12-seconds to place your bets and as the countdown timer reaches the final three seconds, the live host will begin to spin the wheel. There are 55 segments on the wheel:
22 segments in white to represent the 1x multiplier
15 segments in green to represent the 2x multiplier
7 segments in pink to represent the 5x multiplier
4 segments in blue to represent the 10x multiplier
2 segments in orange to represent the chance bonus
3 segments in black and silver to represent the 2 rolls bonus
1 segment in black and gold to represent the 4 rolls bonus
Once bets are placed and the timer reaches zero, the host will release the wheel from his/her grip and the wheel will eventually come to a stop. While we wait for the result, the host will interact with the players and taking part is as simple as making a comment in the chat feature.
Live Monopoly Features
Just like Chance on the board game, Chance on the wheel sees Mr Monopoly leap from his seat to reveal a card and its prize – will it be a multiplier or a cash prize?
If you win cash, your bet is returned on top of your winnings, if you win a multiplier, the host will spin the wheel again and the multiplier won will multiply the winnings.
Example:
The chance card produces a 5x multiplier and the wheel lands on the number 10 segment, that 10x will then be multiplied by 5x (50x) and everyone who had a bet covering the 10 will win that stated multiplier. If the wheel lands on another multiplier, your multipliers will be multiplied, so for another example, if you bet £100 on segment 5 and you get a chance card with an 8x multiplier, you will win 100 x 5 x 8 which is equal to £4,000. If the next spin after the chance card produced with a multiplier is a 2 roll or 4 roll option, you will multiply your in-bonus game winnings by the stated sum!
The Boardgame
When the rolls are triggered, Mr Monopoly will leap from his seat and take you to his famous boardgame. As soon as he appears on the board, he will multiply those stated multipliers on the iconic properties. A roll of two dice is triggered, and Mr Monopoly will move the same number of steps as what is shown on that dice. If a double is thrown, an additional throw is awarded. The Monopoly board has the same layout as a regular Monopoly board with properties, utilities, free parking, railway stations, taxes, jail and go to jail, chance and community as well as Go.
Properties, utilities, railway stations and free parking have basic prizes. Once the game gets underway, houses and hotels will be built on some properties which will result in the prizes being increased. If Mr Monopoly stops on 'Go to Jail' and moves to the jail section of the board game, then two doubles must be rolled to free him. Chance and community spaces on the board award prizes or multipliers once again and when you pass Go, all prizes thereafter will be double the value shown. Income tax reduces your bonus winnings by 10% and supertax reduces winnings by 20%.
The theoretical return to player percentage (RTP) is:
88% on segment 1
23% on segment 2
30% on segment 5
02% on segment 10
90% on 2 rolls
67% on 4 rolls
Conclusion about Live Monopoly
When Live Monopoly was unveiled at ICE 2019 London, it captivated audiences with its uniqueness – something it's still doing to this day! An immersive studio setting delivers ultimate thrills with a Birdseye view of Monopoly town from a bay view skyscraper window. As buildings are being built below, Mr Monopoly sits reading his paper in the studio while having a much-needed cup of tea and every now and again he will put down his reading material and speak a few words to the host.
A chat feature ticks over to the top left of the screen with hopeful players posting messages of encouragement and questions for the gameshow host, and like any chat feature, this one gets spammed with players who just can't seem to win. Unfortunately, there is no option to remove the chat feature, so you'll just need to grin and bear it. Whether you have superfast broadband or not, the connection does lag and sometimes the display goes off altogether. Camera angles can be adjusted for a more immersive display and there are links to history, rules and settings to the top of the screen. The betting table is simple to navigate and understand, what with there being just the 6 options. The last 24 rolls will be displayed to the right of the betting table – something which could help you make better betting choices. The chances of landing the rolls is slim but when it does come in, you could be in-line for a huge prize, or then again, you may not, because multipliers on the board will start at 2x, and there's no guarantee you will make it around the board to the bigger multipliers.
Live Monopoly FAQ
Q: Can I Play Live Monopoly on Mobile?
A: Live Monopoly is a mobile optimised live casino gameshow meaning you can enjoy all that it has to offer on any mobile device with internet connectivity. Accessing the gameshow is as easy as logging into your casino account and selecting the live casino category within the games lobby. When you see Live Monopoly, give it a click with your finger and you'll enter into the Monopoly Universe instantly!
Q: Do I Need to Download Any Apps to Play Live Monopoly on Mobile?
A: No apps required to play Live Monopoly! However, the casino you play at may offer a free app where games can be accessed quicker than if you were to log in directly through your browser. Whether you play Live Monopoly on desktop or mobile, the game show is exactly the same.
Q: Is Mayfair the Highest Paying Property in Live Monopoly?
A: Yes, although, the value of the property will only be determined once the bonus game is activated. Watch as Mr Monopoly takes you on a quick but virtual tour of his home before placing multipliers onto each section of the board.
Q: Do the Value of the Properties Increase During the Live Monopoly Bonus Game?
A: They do have the potential to increase in value but only by passing 'Go' or picking up a Chance or Community Card with a multiplier boost feature.
Q: What Happens if You Land on Jail or Are Instructed to Go to Jail in Live Monopoly?
A: If you land on the 'Just Visiting' square, then that's what you do – just visit and carry on with the next roll, but if you are told to go to 'Jail', you will need Mr Monopoly to throw a double before you get out of jail!
Q: How Many Goes Around the Board Do you Get with Live Monopoly?
A: It all depends on how many rolls you activate and how many doubles Mr Monopoly throws! If the wheel lands on '2 Rolls' or '4 Rolls', you will be initially awarded 2 or 4 rolls respectively. If at any point during those rolls Mr Monopoly throws a double, you will receive an additional go. And the further around the board you get, the bigger those multipliers become!
Q: Are You Guaranteed Big Wins with the Live Monopoly Board Game Bonus?
A: No! Big wins are never guaranteed and the amount you win will be determined by your stake. Live Monopoly bonus round may not even see you pass the first stretch of properties and you're not guaranteed to make it all the way around even if you do happen to get further than say the Angel Islington, Euston Road or Pentonville Road (light blue properties). 
Q: What is the Highest Paying Segment on the Wheel?
A: Blue 10 – this delivers a 10x multiplier to your bet.
Q: What is the Full List of Properties on the Live Monopoly Bonus?
A: Properties/Stations/Utilities run in the following order:
Brown: Old Kent Road, Whitechapel Road.
Light Blue: The Angel Islington, Euston Road, Pentonville Road.
Pink: Pall Mal, Whitehall, Northumberland Avenue.
Orange: Bow Street, Marlborough Street, Vine Street.
Red: The Strand, Fleet Street, Trafalgar Square.
Yellow: Leicester Square, Coventry Street, Piccadilly.
Green: Regent Street, Oxford Street, Bond Street.
Dark Blue: Park Lane, Mayfair.
Stations: King's Cross Station, Marylebone Station, Fenchurch St Station, Liverpool Street Station.
Utilities: Electric Company, Water Works.
Q: How Do You Know when Chance Has Been Triggered in Live Monopoly?
A: There are two orange chance segments on the wheel and when the pointer lands on any of these, Mr Monopoly will leap from his chair and deliver his Chance card verdict of either a cash prize or a multiplier.
Q: Does Everyone Benefit from the Chance Card in Live Monopoly?
A: If a cash prize is awarded then the answer to that would be yes, but if a multiplier bonus is awarded, the no. If a multiplier bonus is won, all bets remain in place while the live host spins the wheel. The multiplier won will multiply the winnings on the next spin. Example: you have a £50 bet on the number 5 segment when a Chance card produces a multiplier of 10x. If the wheel lands on your chosen segment (5), you would win £50 x 5 x 10 = £2,500!
Q: Is Live Monopoly Random?
A: Yes, as with all games of chance, an RNG is used to determine the gaming outcomes at all times.
Q: Can I Interact with the Host and Other Players?
A: Absolutely! Whether you're accessing the game on desktop or mobile, a chat feature will be available to use at all times. If you prefer to sit back and watch others ask the questions, you can, only the chat feature moves at an unprecedented rate when the wheel is in a spin!
Q: Why is There a Live Host Spinning the Wheel if the Outcome is Totally Random?
A: A live host is there to add a touch of glamour as well as provide interaction services. The live host gets involved with players and the game by chatting and initiating a spin of the wheel. The host has no control over who wins or loses, nor do they know where the wheel will come to a stop. Be courteous at all times or you're likely to find yourself removed from chat privileges.
Q: What's so Special About Live Monopoly?
A: It's a modern take on Monopoly only with this version, you can win big cash! Live Monopoly has taken the online casino world by storm with multiple ways to win, mega multiplier potential and full-on fun.
Q: What are the Winning Options on the Live Monopoly Wheel?
A:
Number 1 (White) fills 23 segments and pays 1:1;
Number 2 (Green) fills 15 segments and pays 2:1;
Chance occupies 2 segments and pays a random cash prize or a multiplier for a new (free) spin;
Number 5 (Pink) fills 7 segments and pays 5:1;
Number 10 (Blue) fills 4 segments and pays 10:1;
2 Rolls occupies 3 segments and activates the bonus round and two rolls of the dice (initially);
4 Rolls occupies 1 segment of the wheel and activates the bonus round and four (initial) rolls of the dice.
Q: What is the Best Bet on Live Monopoly?
A: The highest chance of a win comes with the smallest of pays; the number 1 is more likely to come out but only pays 1x your bet. Study the history of calls to try and judge where you think the wheel will land because there is no specific answer to this.
Q: What does Income Tax and Super Income Tax Do in Live Monopoly?
A: Like the game itself, they impose a tax on your winnings! 
Q: Does Live Monopoly Award Prizes Through Community Chest?
A: Yes! If you happen to land on any of the two Community Chest segments on the board, Mr Monopoly could reward you richly!