We've come a long way since the very first online casino launched way back in 1996 and it's all thanks to technology. Nowadays, all it takes is a few swipes and taps of your finger or a blink of an eye to open up a world of endless gaming (and winning!) opportunities! Casino Apps are free and are designed to bring the thrills of the desktop casino to your mobile device and get this, it doesn't even need to be a top-of-the-range smartphone either!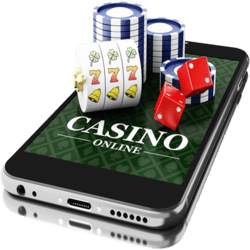 Whether you're using an Android tablet or an Apple iPhone, there are mobile casino apps to download for free! It's true to say it doesn't really matter what mobile device you own, but the more advanced the chip in your phone/tablet, the better-quality graphics offered.
The number of online casino apps offered on the mobile marketplace is soaring and as more of us turn to gambling on the go, operators are having to keep up with demand. Top-tier online casinos here in the UK thrive on being able to offer a mobile gaming platform, but which are the best casino apps?
We'll get to that in a moment. More and more people are choosing to play on the go and with this in mind, operators are designing websites that are both desktop and mobile compatible in the same instance!
Not too many moons ago, we were required to hunt down that old HTML5 enabled websites to enjoy some sort of gaming on the go, and this resulted in us having to play directly through the mobile's browser! To eradicate the standard browser issues (tabs getting in the way of games was one!), online casino developers turned to develop casino apps. Although, there are pros and cons with mobile casino apps too. So, without further ado, let's take a look at the good, the bad and the ugly!
Top Best UK Mobile Casino Apps
LeoVegas Mobile Casino App
Leo Vegas is the self-proclaimed "King of Mobile Casino" is one of the most popular UK Casinos to date and their casino App has been designed to mimic that of the desktop casino, although, there are a few minor differences here and there.
The welcome page is identical in every way; it's almost as if it has been mirrored onto your device!
Navigation is simple via four quick menu buttons; categories (games by specific features), quick launch – this is a feature available to players who are logged in and it takes you right back to the game you were playing last.
My games is a section designed to be your own personal casino; here you can save the games you love for quicker access next time you play.
Mobile+ shows the games that are perfect for your device and offers advanced settings for free spins, Autospins and even shows games that are available portrait mode only!
Ice36 Mobile Casino App
Ice36 is an adventure casino where perks and fringe benefits are awarded as you play. Hills of Odd is the first world players are encouraged to venture through with 20 different levels. Each level delivers something new to your account, on both desktop and mobile.
Again, like all major online casinos, Ice36's mobile app is free. The layout is user-friendly and easy on the eye. The welcome page seems a little basic but don't let that fool you! Log in to the app and a whole new gaming world appears. Once logged in, ICE36 will tease of new releases and info on what you can win with new game release previews. Games are housed in multiple categories, but you can always make your own casino by adding games to your favourite list.
Mr Green Mobile Casino App
Mr Green Casino launched way back in 2008 and is a popular choice among slots aficionados who are looking to get their hands on their winnings fast!
Of all the mobile casinos out there, Mr Green Casino is consistently the quickest at processing withdrawals, with e-wallet processing times taking a few hours at most!
Once it's been seen, it takes minutes! Mr Green's mobile app is very different from the desktop casino and is almost too compact. The welcome screen is made up of popular slots and there are very few navigation options. When you receive a message or promotion from the team, it will pop up on the screen and get in the way of everything that you're doing!
32Red Mobile Casino App
32Red Casino is another popular mobile casino in the UK, and this can be attributed to successful television campaigns featuring Jose Mourinho – the chosen one!
The mobile app is easy to navigate, bears the hallmarks of the desktop casino (orange and green colour scheme) and plenty of choices. First thing you'll notice when you launch the app is the current welcome offer, of course, if you're already a member this doesn't apply to you.
New to 32Red Casino? Register with your details, make your first deposit and get your hands-on additional bonuses to keep the fun going. Games on offer include progressive jackpot titles where multiple millions can be won and thrilling live casino games!
BGO Casino App
BGO Casino has been around for years and delivers top-quality gaming through a completely instant-play interface!
The mobile app is just as easy to navigate as the online casino with tabs and categories to help narrow down that substantial list of games. The first time you launch the mobile app, the welcome offers spring up on your screen; you either accept and join or decline and log in.
Games come in all different themes with bonuses ranging from cascading symbols to expanding reel engines and each one is designed to deliver an edge of your seat entertainment and big winning opportunities.
Popular games include Starburst, Twin Spin, Reel King Mega, Piggy Riches Megaways and Age of the Gods slots!
Bet365 Mobile Casino App
Bet365 Casino has become a household name over the years, but did you know they launched way back in 2001? From land-based betting shops to the online gaming community, bet365 have been successful in their endeavours to attract new players and their pleasant, easy to navigate mobile app was one of the reasons they've been able to do this.
One login will allow customers to access all gaming platforms; from slots to sports betting! And with new games added every week, you'll always find something new to play. Advantages of the app include gaming on the go, mobile-only bonuses, instant win games and access to games not available anywhere else!
PlayOJO Mobile Casino App
PlayOJO Casino was a new kid on the casino block when they launched back in 2017, but over a short period of time, they have risen to the top ranks!
Their no messing around attitude to casino bonuses has enabled them to reach more customers than most mobile casinos, and how many casinos do you hear of giving away cars, holidays and eye-watering cash prizes? Not many, I can tell you which is what makes PlayOJO Casino so exciting. Every bonus and promotion here come with no wagering – absolutely none!
Free spins packages are often available on weekends and even here, you get to keep 100% of your winnings guaranteed! A feature which has been rolled out to their mobile casino app too and just like the desktop casino, it offers great value for money gameplay and one hell of a lot of games.
The Benefits of Mobile Casino Apps
#1 Compact, Comfort and Convenience
Being sat hunched at your desk playing casino games isn't exactly enjoyable and with mobile casino apps, gaming can be accessed from the comfort of your couch to your comfy bed! Games are readily available at your fingertips 24/7 and in the palm of your hand, so you're closer to the action than ever before! One thing we should point out is you need a reliable internet connection to be able to do this. WIFI is the most efficient as mobile data can dip in and out unannounced, and there's nothing worse when you're playing online slots!
#2 Huge Choice of Games
Mobile games are what people want and that's what they're given thanks to the likes of Microgaming, NetEnt and other software giants. Microgaming (the folks behind the Immortal Romance and Mega Moolah slots!) is the oldest online gambling provider and over the years, they have taken older releases and given them a tweak for those who love to game on the go!
#3 Bonuses Galore
Many operators offer an incentive for customers to whip out their mobiles, it's not often granted, but these types of bonuses are out there. And, the bonuses come in different shapes and sizes! From bonus spins to deposit boosts, leading casino company's offer tailored promotions to suit each individual player. Some even offer rewards through 'missions' and these often include playing on your mobile or tablet.
#4 Enhanced Security
If we were to stick a mobile casino next to a laptop casino, would you know which one offers the best security? Playing on open servers through desktop devices leaves you open to all sorts of virus risks, but mobile and tablet devices offer an additional level of security not found in your standard computer! Making deposits and withdrawals requires some sensitive information and when completing these transactions on mobile, rest assured, the highest level of SSL (Secure Sockets Layer) technology is used to safeguard your details, making it impossible for your financial information to be accessed.
#5 Everything's Quicker
From registration to the launch of games, everything on mobile is quicker! If your mobile benefits from face recognition or fingerprint software, once you've provided your details to your chosen mobile casino, you will be able to log in through one of those, making it so much quicker to access your favourite games next time around! And again, this adds an extra layer of security because unless your phone opens up to other people, it won't allow anyone else to access your mobile casino account!
The Disadvantages of Mobile Casino Apps
#1 Rotation Frustration
One of the major drawbacks of mobile casino apps is their inability to launch effectively. Some games require you to rotate your device to landscape mode while other launches in portrait mode. This in itself may not seem like much of an issue, but when your phone decides you need to 'swipe up' in order to launch the game, some devices are unable to judge what's trying to be done and therefore, many games may not load at all.
#2 Distraction Tactics
If you own one of the latest iPhones, you'll notice a white hovering menu bar to the lower of your screen and this can cause problems when playing mobile casino games. Rotating your device and playing in landscape mode often sees that menu bar hindering your attempts at winning, what with it getting in the way!
#3 Size is Everything:
"It doesn't matter how big it is!" well, it certainly matters with mobile casino apps! When mobile phones first hit the market in the early '70s, they were the size of bricks; big, bold and an antenna that could reach into outer space! As the years rolled by, phones began to get smaller and we all wanted the latest Nokia with the smallest of screens. But now, we all want bigger again and unless you have a fairly decent sized mobile screen, the graphics and gameplay won't be as good as they are on a desktop computer.
#4 Sausage Fingers
Unless you have dainty little fingers, you'll face some issues with navigating a mobile casino app what with everything being so compact. The games lobby will house hundreds of games but getting to the right one could see you pressing the wrong thing! And, the majority of games are designed to be played in 'right-hand' mode, which is a bit of a pain for those who are left-handed.
#5 What a Drain
One of the biggest disadvantages of playing on the go is the battery. Games have a habit of eating away at your battery like there's no tomorrow, especially when you have the sound turned up!