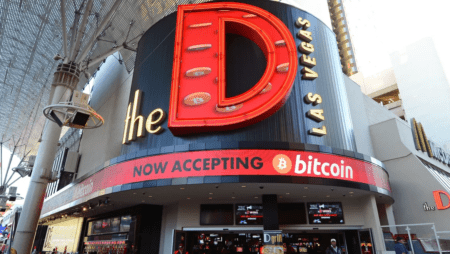 In a collision of three ages of extremely fashionable electronic frontiers Atari has announced its intention to build a crypto casino that will include non-fungible tokens among its payment options.
Atari is one of the pioneers of the video game world. Back when three lines on a screen were enough to keep a couple of kids playing for hours they launched Pong. They were also the company behind Pacman, one of the world's most popular cabinet video games, the characters from which are still pop cultural icons.
Now Atari are going into gambling, using the decentralised currencies known as Crypto to launch their online slots site that will feature games based around Atari's long gaming heritage.
This is a really cutting-edge development. The casino will be built inside a virtual platform called Decentraland, which is built on the blockchain. On this platform, users can make their own virtual reality applications and monetize them.
Inside this platform is a gaming district called Vegas City. Here, players can use Ethereum to gamble.
Atari's casino will include the latest blockchain craze, non-fungible tokens. NFTs recently hit the headlines when a short video clip was sold for 10s of thousands of dollars. Then, Kings of Leon released their latest album in an NFT form. NFTs are digital goods that have something unique about them, and each have metadata recording permanently, in a way that can't be changed, what they represent.
At the casino players will be able to use the token native to Decentral, the $DG. Atari are also minting their own NFT, to be called ATRI.
The company has exciting plans for its venture. They have leased their virtual casino for a term of two-years. They are forecasting bets of at least $150million in 2021 following a launch in May 2021. Over the following two years, the company expects to take in US$400m from bets.
Atari has released a statement, saying: "The casino space presents a massive opportunity to leverage the portfolio of Atari properties through a range of social and real money casino opportunities."
Blockchain and cryptocurrencies have been big news in the past few years. Many casinos do now accept payments from the major cryptocurrencies – Bitcoin is the best known – but most require the conversion of the crypto into fiat currencies via some payment platform.
Virtual casinos accepting NFTs are a new frontier in the online gambling industry, which has consistently shown itself to be highly adaptive and novelty hungry.
Atari was founded in 1972 in California. It went on to become one of the best known early video game companies. The company did not survive into the modern console world though and has been through several iterations, most recently launching a series of branded hotels. Atari is a heavily nostalgic brand with strong visual imagery.
Back in 2014, Atari announced that it would move in a new direction that targeted social gaming and real-world gambling, but this is the first concrete move into the world of online gambling for one of the biggest names in the history of video gaming.