Interested in online baccarat? Check this guide! Learn to play baccarat like an expert and claim the best baccarat casino bonuses!
While the average casino player in the UK will head straight for slots, video poker, roulette, or blackjack, there are a number of players who go the other way. Baccarat for a number of casino enthusiasts is the game of choice. Baccarat is essentially a card game played between a dealer and a player or players, with strict and defined rules.
As the favourite game of the fictional British spy, James Bond, those looking to imitate the intrepid womanizer should consider a shot on this exceptionally old game. Baccarat is said to have originated in the 15th century, which definitely gives it a longer legacy than other games such as slots and even blackjack and roulette.
Known for its elegance, this is a game which is favoured by players with a finer taste. The classier clientele tends to seek a different experience inside casinos, and typically have three variants to choose from. These are punto banco, Baccarat Chemin De Fer and Baccarat Banque. The version played by most players in Britain, however, is 'North American baccarat' (punto banco).
Baccarat uses cards for their point value, but it is more complicated than a game like Blackjack, for example. Cards 2 to 9 hold their usual value, while tens, jacks and queens are worth 0 points.  Aces are worth 1. Should double figures be hit by adding cards together, the value of the number to the right is considered. For example, a 15 becomes a 5. This makes the maximum score achievable a 9.
Best Online Baccarat Casinos UK
The Origins of Baccarat
It is no secret that Baccarat's origins are disputed. Historians argue that, in its modern rules, it appears to have come to prominence in the 19th century. Soldiers returning from the Franco-Italian War in the 15th century are also credited with introducing a primitive form of the game. The original name was said to be 'baccara' which translates to zero and is likely to reference the face cards having 0 value. Felix Falguiere, a man who is credited by some as having invented the game, is said to have introduced definition to the game which had four individual dealers, where all players may be the banker and players could play against one another.
King Charles VIII of France was said to have been a huge fan of the game, and as such, it caught on among the aristocracy. The version which many players in the UK enjoy, punto banco, is said to have its roots in Cuba. Though it never became a common casino game played by the average Joe, it is considered a high-class game played by VIPs, for high stakes. That being said, you do not have to have plums in your mouth to play baccarat, as it is commonly found in many casinos in Britain and online.
Baccarat Rules
Before playing baccarat, it is highly advised to learn the rules. There are a number of factors which dictate the average game of baccarat. With punto banco baccarat, for example, there is a set of rules which are known as the 'tableau'. The banker and player receive two cards each, then add the totals together to get a score. The digit to the right is the one which matters, meaning that a 15 becomes a 5. If the player or the banker hits an 8 or 9 (a 'natural') they will win the game. If they both have the same score, then this will be declared as a tie.
Should neither participant have an 8 or 9, the game will follow the tableau to determine the next step. It works like this: the player's rule is checked first, then the banker's. Should the player have an initial total of 0-5, he will draw an additional card, standing at a 6 or 7. The banker will have to adhere to the same rules, meaning they will draw on 0-5 and stand on 6-7.
The banker will act a different way if a player draws a third card:
If the Player drew a 2 or 3, Banker draws with 0–4 and stands with 5–7;
If Player drew a 4 or 5, Banker draws with 0–5 and stands with 6–7;
If Player drew a 6 or 7, Banker draws with 0–6 and stands with 7;
If Player drew an 8, Banker draws with 0–2 and stands with 3–7;
If Player drew an ace, 9, 10, or face-card, the Banker draws with 0–3 and stands with 4–7.
Where a tie occurs it is good to know that current bets can remain in place for the next round or they may be reset. This will most often come down to the casino and their own particular rules when it comes to Baccarat. The best thing to do if you are unsure and require clarification prior to playing is to ask the casino to provide their own rules to the game before you play. This is one of the most important aspects of baccarat.
Different Versions of Baccarat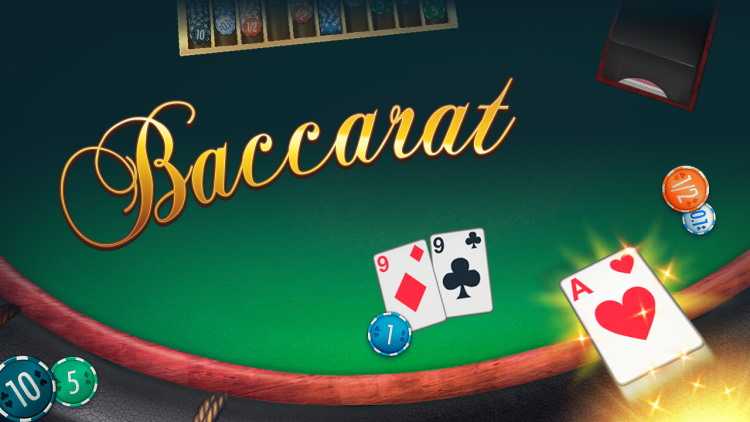 Super 6 or Punto 2000
Super 6 or Punto 2000 is will pay money on winning banker bets instead of 19 to 20, with the exception of a banker win with 6. In this case, only 50% of the bet can be paid out. This is a faster version to play and one which has a higher house edge.
Chemin de fer
Then, there is Chemin de fer, which takes its title from the railway due to the speed at which the game can be played. In this version, the player is the banker and this does change according to each round.
Baccarat Banque
Baccarat Banque is not too different from chemin de fer. The bank is assigned to one player at all times and the players are dealt their cards as two groups, which are split into two sides, which surround the banker.
Punto Banco
Punto Banco Baccarat is not a game where you will have the chance to exhibit your excellent skills, as is effectively a game of chance. There is no skill involved whatsoever as the outcome of games are decided by cards as they are revealed. The results will lead to either the player or banker winning, or less commonly, a tie between player and banker.
When breaking down the name, the 'punto' part refers to the player and 'banco' the banker. These are not interchangeable as are simply part of the rules which players must adhere to as part of the game. With each coup, two cards will be dealt to the player and banker with the aim of achieving an 8 or a 9. More cards can be dealt if there is no defined achievement.
Baccarat may not enjoy the same level of popularity as other games online such as roulette or blackjack, but it does have a fanbase big enough to ensure that practically every casino will have one version of the game in its catalogue.
Online Baccarat for Real Money
Playing baccarat for real money can be an excellent way to pass some time and potentially win some cold, hard cash. Although when players for the first time, there is a chance that they may be perplexed by the sheer number of cards on the table and the way the game works, but it is actually far more simple than it looks. For example, most table games have scores or levels to get to. In blackjack, the ultimate number is 21. In baccarat, it's 9.
Unlike blackjack, players cannot bust in baccarat, which means that there is a greater chance of walking away with some tasty winnings. Before you deposit, however, you must understand that you will have the opportunity to bet on the bank or the player. You are essentially betting on either's hand. Both will be dealt two cards, both of which will face up. You can receive a total of three cards, with the final only being dealt under certain circumstances, as mentioned above.
As we covered, it is important to remember that if you are in possession of 0 through 5, you will get yourself a third card. If you have a 6 or 7, you won't. If you get an 8 or 9, you've won the game. That sounds too good to be true, right? Well, it is true. Rules are truly that simple in baccarat, which makes it a massively appealing game to casino enthusiasts around the world, including those in the fictional world of spies.
Oh, and one last thing. Zero value works this way: tens and face cards are worth nothing. You cannot go over 9, so anything over 9 goes back to zero. Easy peasy!
Choosing the Right Baccarat Casino Sites
One of the greatest aspects of online casinos is the access players have to a number of sites which specialize in baccarat, which gives you a wide range of options to play your favourite game. Online baccarat can be excellent if played through the right device and with the right software. It is a simple game which is well represented via top-notch software. The casino or software you play with can either make or break the experience for you, of course.
The best thing to do before you play is to find a casino which has a solid return of baccarat games or at least one solid version. Before you deposit with any casino, be sure to confirm that they are responsible. Once you are happy with the casino and their reputation, you can then get down to business and enjoy playing this casino classic in style. Why not rent a tuxedo, grab yourself a cocktail and…
On second thoughts, don't do that. If you want to fight crime in a practical way, however, make sure that the site you are playing at is safe. A site that keeps its players protected will always be desirable. You will find a number of methods an online casino can use to keep the security of the site watertight. These can include things such as a 128-bit SSL encryption put in place to protect transactions and safeguard sensitive information should be in place in any casino you choose to play in.
Baccarat Strategy
New casino players are always looking for casino strategy guides to help give them the edge over the house. Conveniently overlooking the fact that no matter what strategy you devise to play against the casino over the long term you'll always lose because of the casino house edge.
That's the cold hard truth. Unless you are Phil Ivey and know how to exploit a casino using card counting or edge sorting techniques, you'll have some good days and some bad days. The bad days will generally outweigh the good days which is why the casino always ends up taking all your money.
Even if you manage to take the casino for £7.7 million over two days straight playing Punto Banco the casino will win the court case against you and you'll wind up with nothing.
Experienced casino players already know this. They also know that the best table game strategy in the world won't hold a candle to luck. Luck is the biggest factor in casino play and the reason why you'll have those amazing days when you wipe the floor with the dealer and greet the cashier with a big fat cheesy grin on the way out.
That's right folks, you're nothing without luck. Even the late Margaret Thatcher used to set so much stock by luck that she would always ask if a minister was "lucky" before appointing him.
Rather than simply relying on luck though there are some common-sense moves and preparation you can make for all casino games in advance so that if your luck runs out you don't lose your bankroll in short order.
Learning a blackjack number table is one such smart move. Knowing when to stand, split and double down is a starting point for basic strategy. In Baccarat there are simple steps you can take to minimise your losses when lady luck runs out:
Firstly, it may seem obvious, but you should know the rules. I remember finding my way into a five-card stud game once totally by accident. At the time I didn't know anything about the game and I'd clicked the wrong table to play at. Needless to say, I had my arse handed to me on a silver platter.
Follow these tips for playing Baccarat and you'll double your money quickly when lady luck shines her light on you:
1. Do not bet on "tie"
The odds of 8/1 may be tempting but the odds of both the banker and the player ending up with the same result are very slender. Far more slender than the meagre 8/1 odds on offer.
2. Always bet on the banker
If you are new to the game then paying the 5% commission to bet on the banker may seem like extreme folly, but this is the bet with the lowest house edge (1.05%)
Betting on the player will give you a house edge of around 1.25% so betting on the banker is the bet to take every single time. Of course, that's a boring way to play but any strategy you care to name is going to be boring when compared to following your gut and playing with balls.
3. Ask for a Gemaco card deck and Edge Sort
Hope they don't notice your superstitious request.
4. That's it really
Baccarat is a simple game of pure chance. Trust to luck and enjoy yourself is the best advice I can offer.
Conclusion about Baccarat
Baccarat is a game which can trace its roots all the way back to the Middle Ages. Don't be fooled into thinking that it is a game which is too old to be considered popular; baccarat is among the best games you can play inside of a casino. Even if the game is named and named after a zero – which is the worst hand you can get – it is anything but a game that will amount to nothing.
Given the number of baccarat variations which have come and gone, the classics, mainly Punto Banco, Chemin de Fer, American and Mini-Baccarat are the most renowned and well-loved games among Brits. These games are also incredibly popular around the world and can be found in the lobbies of land-based casinos and online casinos alike. There is no real casino out there which would not have at least one version of this game in their repertoire.
Baccarat is simply a game for a real casino enthusiast that wants something a little classier. There are many things which make Baccarat stand out from other table games, but the most notable is the fact that – on the basis of the version of the game you choose – you are almost in the position of the dealer.
In order to truly get the best out of your online baccarat experience, simply learn the rules, know how the game works, and most of all, have a little fun.