Check this guide if interested to make a Skrill casino deposit. Discover the best Skrill gambling sites and Skrill online casino bonuses!
Do you play slot machines for fun? In fact, it doesn't matter which game we're talking about, it might be poker, or blackjack or any other gambling game. Do you play them for fun?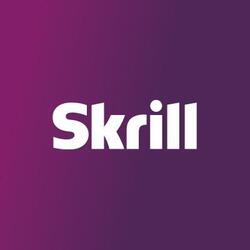 Of course, you do. To an extent. But the fact of the matter is that most players play these games for cash. That's a way of adding something to the mix to make it more real – and we'd always advise against playing because you need or expect to win cash, please don't do that – and to add another level of thrill to the game.
Gambling needs money. So internet gambling needs the transmission of money online. You can't slam down a silver dollar in front of an algorithm in a server in Greenland running a game designed by a guy from Sweden and run by a Malta-based company. Sorry, you need some zeroes and ones to get some zeroes and ones in your bank balance.
Skrill is a way of doing that. And today, this electronic wallet, or value-store, is one of the most popular ways to pay for online gambling.
Check this guide if you're interested to learn how to make a Skrill casino deposit, discover the best Skrill gambling sites and Skrill online casino bonuses.
In this Skrill online casino guide we will learn:
How to choose the best Skrill casinos
What does Skrill do
Who are Skrill
Why Do Gamblers Love Skrill
How to Use Skrill & How to Make a Skrill Casino Deposit
List the best Skrill casino bonuses and casinos taking Skrill
Skrill Online Casinos – List of Casinos taking Skrill
How to choose the best Skrill casinos
Skrill is an e-wallet that is one of the most popular in the gambling world. It is generally trusted, and you can use it with confidence at the vast majority of UK online casino sites.
Skrill works – like all of these payment systems – by taking money from your bank account and transferring it for you in online transactions. You can sign up at Skrill in just a few minutes with just an email address.
But how do you find the right Skrill casino site to use?
First of all, it must be safe. Look for up-to-date UK Gambling Commission licensing, but also check out any sites privacy and data security credentials too.
Then, make sure it's a Skrill online casino you're going to enjoy for the long term. You want to see good design; good, ongoing promotions; and lots and lots of the games you enjoy playing!
Specifically, you should check withdrawal limits (which can cover a very wide range) and withdrawal times – really, they should be instant for an e-wallet – and you should also check the eligibility of your Skrill online casino account for offers, and especially welcome offers, from which some e-wallets are excluded.
And then sign up, log in and enjoy.
What does Skrill do?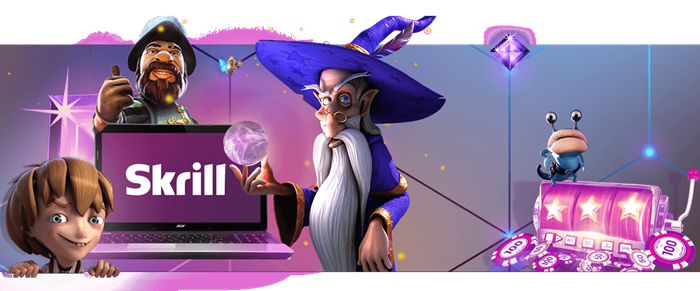 The common way of referring to Skrill is as an e-wallet or online wallet or digital wallet. You might also see Skrill called a payment processor.
What does that mean?
Skrill takes your money and gives it to someone else. (We'll assume a transaction of some sort too.)
If you want to prove that "money makes the world go around" then look at the history of money transfer because you could transfer money remotely before you could do anything else.
The first systems used telephones and televisions and were confined to intra-company transfers.
The world wide web's arrival on the framework of the Internet in 1990 turned an academic, technical and military network into something that "ordinary" people (no-one's ordinary, we believe in you!) could use. Within a year businesses were putting up signs and price lists online.
The first online transaction was very dull. Someone ordered a pizza. The breakthrough that allowed that pepperoni pie to fly was more exciting though: SSL encryption (invented in 1994) is still used today (and you should never use a site without it).
By 1995 businesses that operated only online were starting to appear, including a little book-sales website called Amazon.com.
Payment processing is a massive part of this process. If you have to physically send a cheque or cash to an online business you lose half of the advantage of being online, which is instantaneous action.
Online wallets were invented to meet these needs, but the first examples failed to catch the public's imagination. For most of the history of the internet, we've been typing in card numbers.
Not everyone has a bank account though. Not everyone wants to expose their bank account to the internet.
Digital Wallets were a breakthrough waiting to happen.
The Digital Wallet Today
People want instant access to cash online. But they want it to be secure.
A lot of the scare stories about internet frauds were just that – scares, that a media that is commercially incentivised to scare people made as much of as they could.
However, sending money online is potentially risky (so is walking down the street with money).
In Meat Space you can pay in seconds these days: maybe by tapping a card, often by scanning your phone or using an app. Paying digitally can be as fast as a digital transaction.
The online world needed something as fast and as trusted. (Trust is probably more important than actual security in this area of the business.)
These days, digital wallets are starting to walk back across the digital divide. The makers of digital products are providing real-world versions of their apps in order to allow online users to spend with cards and apps in real-world stores.
PayPal leads the way
When you think of online payment systems and digital wallets, you probably think of PayPal. Like the Hoover in the past, and Google more recently, it's a product that has become so ubiquitous that it's entered the language.
There was no guarantee that that would happen, but a link up with another online giant, eBay helped to propel PayPal into the stratosphere.
PayPal was founded in 1998 and was transferring money by 1999, taking on the PayPal name in 2000.
eBay bought the company in 2002, giving it a price tag of $1.5 billion.
eBay needed a way of transferring money, and soon PayPal was being used in 70% of eBay transactions.
There's more to the story than this, but PayPal was a big deal by 2007 when it was reported to be making $1.8 billion, and by 2010 it was the go-to payment processor for the world with 100 million active accounts shifting cash in 25 currencies.
PayPal Runs Away
The online gambling world was quite a big deal in this period in history. One of the reasons was legal. It's not legal to gamble in lots of places and the internet offers a way around geographical restrictions.
That's particularly a problem for the world's largest gambling market, the United States of America, where a patchwork of different state laws bang up against federal laws to make a very complex legal picture. The default position in much of the United States is that gambling is illegal though.
The Internet – particularly online poker rooms – caused a massive eruption in the US gambling world, while regulators scrabbled around for ways to enforce their bans in a newly invented jurisdiction they didn't understand and couldn't control.
PayPal was an enthusiastic participant in the gambling world (this doesn't suggest any illegality on their part) but abruptly shut down all their gambling business in 2003.
This was almost certainly in order to keep themselves squeaky clean legally in the United States. When PayPal left the business they were dominating it in the way they dominate payment processing in almost all other areas of online payment processing.
PayPal were ahead of the game here. US legislators weren't able to catch up with the Internet until 2006 when they did pass the laws that enforced their bans in cyberspace. They even started arresting the bosses of gambling websites when they arrived at US airports.
That situation is now changing. American laws will remain an odd compromise between unregulated libertarian capitalism and puritanical moral posturing for as long as the country is governed the way it is as far as we can see.
But online gambling is slowly making its way into the US market.
For our Skrill casino guide, the main takeaway here is that the world's largest payment processor left a gigantic hole in the gambling business for seven years and that's the space into which a number of smaller payment processors were able to step.
PayPal are now processing payments for some gambling sites. They're choosy about who they work with, and a genuine PayPal partnership on a casino site is a great sign that it's a legitimate business of goof quality.
But between 2003 and 2010 the likes of Skrill were able to make themselves a permanent fixture in the gambling business.
Who are Skrill?
First came Moneybookers. That was the original name of Skrill. Now the company is known as Skrill Limited, and it is based in the UK. The company is licensed by the Financial Conduct Authority across the European Economic Area.
It doesn't stop there though. Corporate shenanigans (of which more later) mean Skrill is part of the Paysafe Group.
Paysafe Group is a gigantic European company. They own Skrill, an online payment system, and they also own Neteller, an online payment system, and they used to own (but have shut down) Paysafecard, another online payment system.
This is a feature of all modern capitalism. Many brands offered to the public as "choices" are in fact owned by the same people. How is one to take competition between Skrill and Neteller seriously when they hand over their cash to the same shareholders?
What is good for consumers here though is that their cash looks very safe in this company. It is big and successful and prosperous – there's no danger of Dennis from accounts running off with the passwords and all the cash over the weekend – and it is regulated. The FCA has had its critics, but it is a large first-world regulator in the finance capital of the world.
Skrill's Story
Skrill did stand out at the beginning of its story. It was cheap! They – remember they were called Moneybookers at this point – were founded in the UK in 2001 offering good value money-transfer services.
They did well. And by 2007 they were being taken over for €105 million by a company called Investcorp. They did even better, and within just two years had turned Moneybookers into something worth £365 million. Not a bad little profit.
The company was bringing in customers too. The 2011 figures show that they were used by 25 million customers (it's not competing with PayPal, but it's hardly a small company now) and you could use your Moneybookers account to spend at 100,000 online businesses, including big names like Skype, Facebook and eBay.
In 2013 we're going to imagine a tacky corporate event at which all of the companies staff were forced to dress in medieval costumes and shout, "Moneybookers is dead, long live Skrill!" You don't have to imagine that, just remember that they changed their name in 2013.
They then bought Paysafecard, and one of that company's competitors Ukash, before being taken over by another company called CVC Capital Partners, who paid €600 million for the company.
Neteller, meanwhile, had built up an enormous business as one of the webs biggest payment processors. They were owned by a company called Optimal Payments. And in 2015 so was Skrill Group.
By this time the company was worth €1.1 billion.
Why Do Gamblers Love Skrill?
PayPal ran off from gambling. Skrill did very well out of that decision. But why?
You'll see Skrill on the front page of almost every gambling website in the world.
The company is pretty sure they know why that is. They say it's because they're fast, smart, and discreet.
Another plus is that Skrill's long-term association with the gambling industry has allowed it to build genuine relationships. You can get special deals by using Skrill to cash up your account. Promotions and discounts are the lifeblood of the online casino market, so this is a major plus.
It's as easy to use Skrill on a mobile as it is on a big-box desktop computer. And if you enjoy the service you can sign up as a VIP and get even better service.
And:
People trust Skrill
Trust is a funny thing. But it's the be-all and end-all for businesses that deal in people's money. Take a look at the history of banking and finance, and you'll find the company's going under on the strength of a rumour.
Skrill's logo sitting pretty on every casino site in the business shows that it can be trusted. And that's priceless. It also means it's convenient to use. Speed and ease of use are the key selling points of doing anything online. The fact you can carry your cash around – a true electronic wallet – in your Skrill account to all your favourite casino sites makes it extremely attractive to gamblers.
Market penetration has given Skrill a good reputation, and also allows them to deliver discounts and deals to their customers. If you're a new casino site, you really want to have Skrill on board when you launch.
PayPal are back in the market now. And they're careful about who they work with so they are a marque of quality. But the same is true of Skrill.
This impression was given a massive boost in 2014 when Skrill was named as a partner in the US's pioneering online gambling state, New Jersey.
New Jersey is home to Atlantic City, one of America's three big casino cities (and location of some of Donald Trump's most spectacularly bad business decisions). The state has pioneered legal online gambling. When they did so, they made Skrill their legally regulated online digital wallet. This is a massive deal for the company.
It's likely that New Jersey's lead will be followed by many more states, and Skrill now has a head start in the world's biggest gambling market before Supreme Court and other decisions that are likely to see gambling completely legalised in time.
How to Use Skrill & How to Make a Skrill Casino Deposit
How to Set Up a Skrill Account
It's free to set up a Skrill account. Hooray! You can even do it now with no intention of using it and in case you ever need a money transfer service in an emergency. (If you do that for heaven's sake make sure you take ALL the security precautions possible and remember your details!)
The process is as easy as joining an online casino. Fill in your details and you're ready to go.
Cash is transferred via more than 100 methods including from your bank account, your debit card, or a credit card. You can also buy vouchers in the real-world, these have a code which you input to increase your balance.
Can I use Skrill Safely?
We would never recommend an unsafe service. There is a lot of regulation in place now in the online gambling and financial worlds, but it's still your responsibility to follow the best practices and keep on top of your end of the bargain.
Skrill are certainly doing their part here.
Online payment systems and e-wallets are inherently useful in this respect. People can use them as a buffer between their bank account and the internet. By using an online wallet you will never send your payment details directly to a casino site.
Skrill use the very best encryption themselves when they contact you or a site you're sending money too. They have PCI-DSS Level 1 approval, which is the Payment Card Industry Data Security Standards' top level.
If you want a few pointers about how to keep your details safe, Skrill help you out with a load of information on their site. This is good news. It's also very much in the interests of Skrill. They certainly don't want any news stories about customers losing money appearing in the press, even if it's entirely the customer's own fault.
So do your bit and read their guides and follow their advice.
You should never click links in emails unless you trust them. Skrill promise to never ask for your password when they get in touch, and they will never ask for your payment details either.
The safest way to use Skrill (or any payment system, or probably any website) is with two-factor authentication. This system is super simple and very secure. It simply means that when you log on to a site or try to make a payment you'll be asked for a password as usual. Then the second level of accountability is added via your mobile phone. A text is sent to you with a code that completes the unlocking of your account. Skrill complete this process with Google Authenticator.
Playing Safe and Paying Safe with Skrill
We'll add some of our own safety advice here. Skrill are doing a lot, but you need to play your part too to keep your Skrill account and your online gambling experience safe.
Use their two-factor authentication. Use complex passwords that you NEVER duplicate, or an online password management system.
Be careful about how you play online. Only ever play at sites that are licensed for you to play at. You can bet that a lot of US players who tried to get around those restrictions – stupid as they may have been – we mentioned earlier got ripped off. As soon as you step outside the law you leave yourself free of the law's protection.
Be mindful of your device's security. Use locking and log out of accounts when you're not using them. It's probably safest never to use your online banking, payment processing or gambling accounts on unsecured public Wi-Fi. Make sure you update your browser and all the apps it uses so that you have the latest security patches.
There's also a lot to be said for playing safely. That means personally safely. People who get into financial trouble or who are otherwise vulnerable are much more likely to fall victim to scams than someone who is simply playing for fun.
Keep an eye on your financial health and your mental health and never play when you're in a bad way in either sense. Seek out the best safe gambling advice online and ask for help if you feel you're getting in too deep.
Skrill Casino Bonuses
Skrill's market reach in the gambling world has made it something of a specialist in the area. Because it's used by so many gambling customers, Skrill gambling sites really need to offer it to their players. Because they need Skrill users Skrill has leverage with them. That means that you may get a better deal from a Skrill casino site if you use Skrill to cash up your account. This might not be the best way to decide if you're going to make a long-term decision about a relationship with a casino site, but it's a small plus that might help you decide between two very similar sites.
Offers and Skrill casino bonuses in the casino world are a complex business in their own right. We're sure you're not naïve, so we're sure that we don't need to tell you that the ultimate benefactor of most bonus deals is the casino site offering them. That's not to say they're worthless, but do a little critical thinking and certainly read all the small print on the deals you accept and see what they demand of you.
So don't let a Skrill casino bonus be the single thing that makes you sign up with a casino, but do consider it a big plus. Skrill is a secure, safe, trusted and popular online payment processor for gamblers. Chuck in a good Skrill online casino that you're going to enjoy – great games, good customer support, a good site – and you're halfway there surely.